Европейская академия
естественных наук

Hannover E.V.
Научные труды.
Н.А. Фудин, А.А. Хадарцев, В.А. Орлов; Медико-биологические технологии в физической культуре и спорте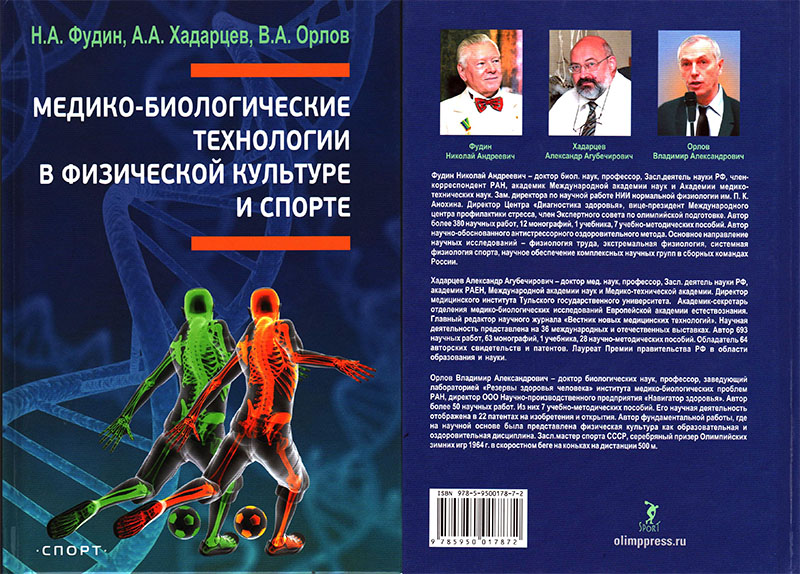 Moskvin S.V., Khadartsev A.A. Laser Blood Illumination. The Main Therapeutic Techniques. – M.–Tver: Triada, 2018. – 64 p.
The analysis of the publications devoted to the research of the mechanisms of the therapeutic effect of one of the most known low level laser therapy techniques – laser blood illumination, as well as the analysis of its long application experience allow us to speak with confi dence about the prospects of this trend. Moreover, both methods: intravenous laser blood illumination (ILBI) and non-invasive laser blood illumination (NLBI) are developing independently, since each method has its own advantages and disadvantages.
The replacement of UV blood illumination with UV lamps by laser ultraviolet blood illumination (LUVBI®) has signifi cantly simplifi ed the technique and increased its effi ciency. The most effi cient options for ILBI are combined techniques: ILBI-635 + LUVBI® and ILBI-525 + LUVBI®. The most effi cient technique for NLBI is the use of low-intensity pulsed laser light with a wavelength of 635 nm and power of up to 40 W.
Sergey Vladimirovich Moskvin – Doctor of Biological Sciences, PhD of Technical Sciences, Leading Researcher of The Federal State-Financed Institution "O.K. Skobelkin State Scientifi c Centre of Laser Medicine under the Federal Medical Biological Agency" of Russia, Moscow, author of more than 550 scientifi c publications, including more than 50 monographs and 35 copyright certifi cates and patents; website: www.lasmik.ru
Aleksandr Agubechirovich Khadartsev – Doctor of Medicine, Professor, Honoured science worker of the Russian Federation, Director of the medical institute FSBEI of Higher Education "Tula State University", Tula; 1500 scientifi c publications, including 95 monographs, 9 inventions, 64 authorship certifi cates and patents; website: http://khadartsev.ru
Вернуться на основной сайт Академии www.eanw.org ¦ Impressum ¦ Контакт